We are proud to be the exclusive Queensland distributors of Coup-on-a-Box.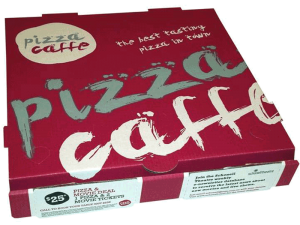 Coup-on-a-Box is no ordinary pizza box; it is a marketing tool designed to assist pizza shops and distributors generate sales. It provides a simple and effective way to deliver your message directly into the homes of your target market at no additional cost to standard Pizza Boxes.
It is directly measurable as the easy tear off detachable coupons are redeemed. It also lessens the impact on the environment by reducing the billions of traditional printed flyers currently produced globally. This is a clear point of difference to standard pizza boxes and why Coup-on-a-Box is the fastest growing pizza box worldwide.
Coup-on-a-Box is made from virgin kraft paper assuring strength and quality. Its 14% thermo technology delivers fresher, hotter pizza.
Available in high quality print finishes.
Coup-on-a-Box is in compliance with FDA Regulations for direct food contact packaging under 21 CFR part 176.170, 176.180, 176.260, 176.300 and 182.90.
Visit www.couponabox.com for more information
  Generic Pizza Boxes: Plain White & Printed
Left to Right: History Print/Text Brown Print/Plain White/Great Pizza Print/Pide
History: 9"/11"/12"/13"/15"/18"
Text: 9"/11"/12"/13"/15"
Plain White: 7"/9"/11"/12"/13"/15"
Great Pizza: 9"/10"/11"/12"/13"/15"
Pide: 9"
Slice Tray: 9"
Big Foot Slab

Pizza

Box

: 12.5 x 25"
* Other sizes are available in these ranges upon request.
Generic Pizza Boxes: Hi-Resolution Photo Print- Classic Italia Range
Available in 9/11/12/13/15 inches
Other sizes are available in these ranges upon request
Create your own identity by having your very own pizza box design. Available in all sizes and print types. Our graphic designer will work with you to create the perfect pizza box for your store!